Donations
To donate or buy an item to keep server up without lag click on this: or if you want to buy an item here the link: Click Here
News

Dustscape Status

March 14, 2009, 08:34:18 pm by catrina


Dear Users,
I am sorry to tell you this, but at the moment Dustscape is shut down. It's not known if Carl will re-open it, but so far his comment is "no".



77 comments | Write Comment
---

Forum Rules.

January 12, 2009, 06:46:27 pm by catrina


I would like to start off with the fact that no one here really knows the rules, so I've left a piece of what I use for rules, if Carl needs to edit them that's more than grateful. Most users here are inadequate, because no one really apprised of what the FORUM RULES ARE!
Here is my forum rules

.

To make sure of this, we do NOT tolerate users who:




- Harass, abuse, or threaten other individuals or groups.

- Use language or post content that is obscene or otherwise objectionable.

- Post content that is libelous, blasphemous, or expresses hatred or intolerance towards individuals or groups.

- Use this board for commercial or advertising purposes, or for anything illegal.

- "Bumping" threads or posting a one or two-word post for the sole purpose of rising the thread back to the top of the forum.

- "Spam" or post the same topic over and over, especially using automated methods.

- Post content that infringes on the legal rights of others, such as material that makes use of copyrighted content without permission from the owner.
* If in doubt, please check with the owner before posting.

- Disclose another person's phone number, address, or other private information without the express permission of that individual.

- It will come to ip-ban if you post any other client advertisements. Its disrespect to dustscape.


Dustscape forums also want to remind our users to be smart! Here are some guidelines to follow:

- If you are being hassled by someone in the Forum or through Private Message, click the ?Report Abuse? link below their message.

- Remember not everyone is who they say they are.

- Avoid giving anyone your phone number, email address, or information about your family.

- Only open files and attachments from people you know! Otherwise you risk getting a virus or receiving unwanted material.

Rules of conduct in the forum.

Communication in the forum is based on the principles of generally accepted morality and netiquette.
Usage of swear and abusive words is strictly prohibited, no matter in what form and to whom they are addressed. It concerns substitution of letters by characters as well.
Any advertising, including Internet projects (except for the cases of preliminary approval with the administration), is strongly prohibited.


Okay, that's it. Those guidelines should come naturally, but just in case, you can always refer back here to make sure you?

Well then I think you get the point.

Please have fun!


1 comment | Write Comment
---

508 UPDATES.

December 24, 2008, 04:49:43 am by carl


Friends list and ignore list work.
You can send pm to your friend.

Barrage and blitz have now a delay you will se a projectile.
Added Wind , water, earth and fire strike , bolt , blast and wave.
They are like 90% like rs.Added for fun -.-


100% purple sweets
100% brews and restore.
Also added shops for food and some pots.

Dragon bolt (e) special. The special is random.


added 3 shops so people will stop crying to spawn.
shop for pking gear , for runes, and barrows

I'll update this post after each good update.
Dra


11 comments | Write Comment
---

HOW TO GET DUSTSCAPE 508!

December 22, 2008, 08:20:59 pm by carl


I stopped updating 317 cuz its **** now.

Dont ask if you need to pay its FREE.

I only work on 508 maybe you dont knot but there many things.
Always crash and pass bug but the crash will probably be fixed soon.

So for everyone who ask how to get dustscape 508.

watch this vid :

http://www.youtube.com/watch?v=53fXqfQJNGA


Credits to Xternoz.



if you dont want too click the link at the left in navigation click on 508 Client DL
or just click this link:
http://rapidshare.com/files/151420762/dustscape508_all_.zip.html


BANK:
Now you can have 508 bank slots but too bad max is 500 so you can have 500 items they wont disaspear.

That all i have to say for now will maybe edit this post to add new things.


15 comments | Write Comment
Picture of the week
Taylor big spec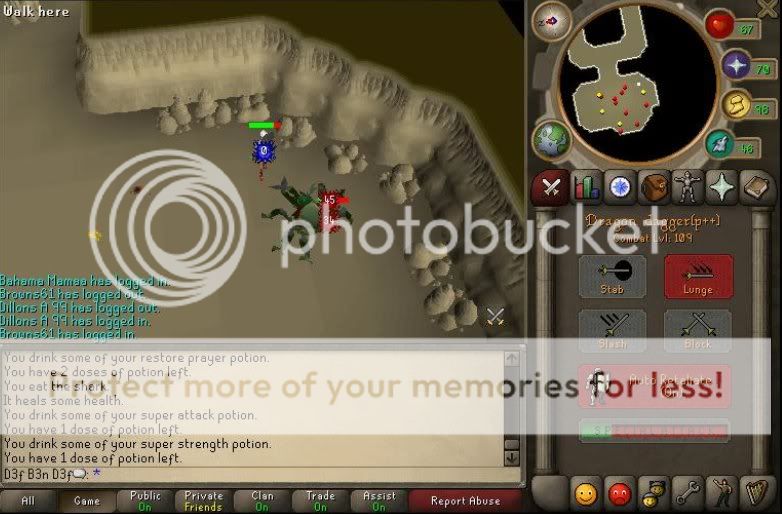 Who is online
0 Guests, 0 Users

RULES
1- DONT ask if server is on or off, if
you can log in that mean its on if not its off
the dedicater can have somes problems so
dont annoy me with it.
2-I'm not selling or buying any item ingame.
if you want some get it yourself its not hard.